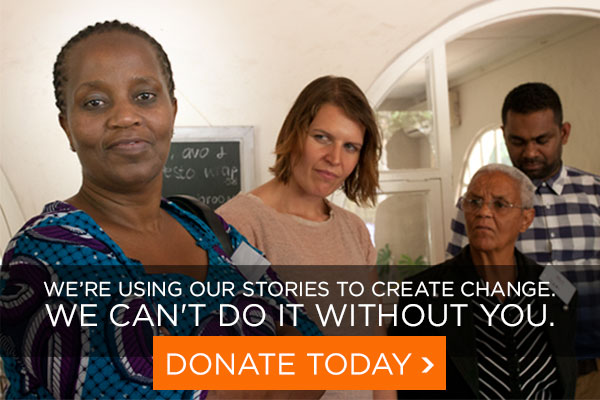 The Voices and Faces Project in Durban, South Africa | Photo: Patricia Evans
How do we create change?

That's a question our team at The Voices and Faces Project asks every day. In a world where one in three women will be the victim of some form of gender-based violence – and far too many people blame, shame or harm those who come forward with their stories – we know that the status quo isn't just unsustainable. It's unjust.

Nothing challenges the status quo more effectively than our stories. Facts make people think. Statistics make issues real. But stories? They open people's hearts.

In 2016, the activists, artists and innovators at The Voices and Faces Project leveraged the power of storytelling to create more change than ever before:

» We graduated our 300th writer from "The Stories We Tell," North America's first two-day testimonial writing program for survivors of gender-based violence and other human rights violations, reaching new audiences through partnerships with the Illinois Holocaust Museum, Girls Inc., and Chicago's Juvenile Justice system.

» We debuted LEAP, a literary journal for girls whose lives have been impacted by violence they've lived or witnessed. Girl-focused and girl-created, LEAP isn't just a magazine. It's a youth-engagement project that is helping create the next generation of gender justice leaders.

» We brought our award-winning "The Ugly Truth," anti-trafficking campaign to three new cities. Developed by listening to the stories of human trafficking survivors - and praised by the European Union as one of the best gender-justice campaigns running worldwide - "The Ugly Truth" is engaging the public in a robust, respectful dialogue about what trafficking and sexual exploitation mean to those who are its victims.

» We traveled to the Clinton Presidential Center, where The Voices and Faces Project founder and creative director Anne K. Ream gave a keynote address, "New Rules for Radicals: How storytelling, opinion shaping and subversion are changing the movement to end gender-based violence." You can watch Anne's talk here.

» We partnered with NoVo Foundation to create "Marketing a Movement," a half-day advocacy training program for those seeking to use messaging, media and communications in service to social justice. In 2016, we brought "Marketing a Movement" to six cities; in 2017 we'll expand and update it to reach several new communities.

We co-founded World Without Exploitation, the national movement to end human trafficking and sexual exploitation. As part of that effort, The Voices and Faces Project is creating the first-ever large-scale archive of trafficking survivor testimony, a powerful tool for sharing the voices, faces and stories of those who have survived exploitation. Watch The Voices and Faces Project-created video to meet the women and men whose testimonies inspire our WorldWE efforts.

We have ambitious goals for 2017 – perhaps most notably, expanding our "Stories We Tell" program to reach refugee girls who have survived gender-based violence and other human rights violations – but we can't meet those goals without you.