See. Read. Change. Meet six other Voices and Faces Project partners whose words are creating change.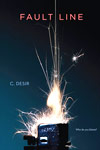 Christa Desir:
Channeling her inner 16-year-old boy. Brilliantly.
An alumna of "The Stories We Tell," our
Voices and Faces Project
Testimonial Writing Workshop,
Christa Desir
is passionate about the power of words. "FaultLine" (Simon Pulse), her forthcoming Young Adult novel about rape in a suburban high school, was conceived during our very first
Voices and Faces
writing workshop. Whip-smart and written in the voice of a teenage boy – yes, she pulls it off! - "FaultLine" will be published in the fall of 2013.
Read more about Christa's forthcoming book here
and
here