On April 21st, Voices and Faces Project founder Anne Ream and speakers bureau member Melva Luker traveled to the Clinton Presidential Center to receive the NSVRC's Visionary Voice Award in recognition of their work to end sexual violence against women and girls. Melva and Anne were joined at the Clinton Center by Arkansas Governor Mike Beebe, Judge Susan Carbon, Director of the Office on Violence Against Women at the United States Department of Justice, and Arkansas Coalition Against Sexual Assault Director Helen Jane Brown. In accepting the Visionary Voice Award, Anne talked about our work at The Voices and Faces Project and the critical role that documentary initiatives can play in the fight to end sexual violence and trafficking. An excerpt from her talk: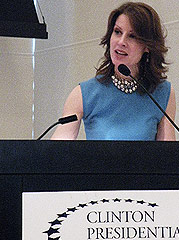 "We live in a world in which uncivil discourse is seemingly the norm, where real and perceived ideological differences too often stand in the way of respectful dialogue about human rights issues. Yet nothing breaks through ideological barriers quite so forcefully as individual stories. They make the political personal, reminding us that behind every fact and statistic about sexual violence there exist real women, children, and men whose lives have been horribly altered by it. A powerful personal story does not tell us how we should respond – but it does demand
that
we respond. It marks the beginning, not the end, of the public, non-partisan dialogue that can lead to change."
Congratulations, Anne and Melva, on receiving the Visionary Voice Award.