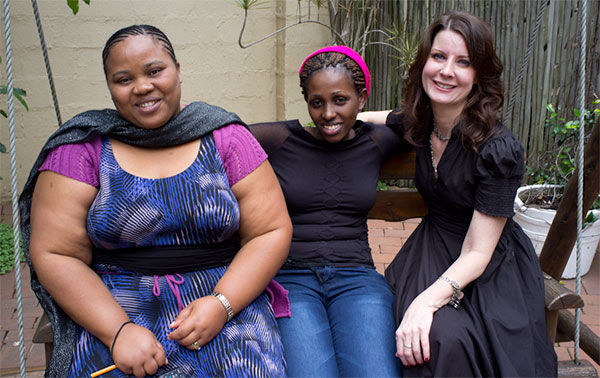 Voices and Faces Project storysharers with workshop co-founder Anne K. Ream (right) in Durban, South Africa. | Photography by Patricia Evans
No story left untold, no girl left behind: Our newest Voices and Faces Project writing program. We believe in girls: Their inherent power. Their unique purpose. Their ability to change the world. With that belief as our guide, The Voices and Faces Project is partnering with The Cook County Juvenile Detention Center and Rape Victim Advocates to bring "The Stories We Tell," our two day testimonial writing workshop for survivors of gender-based violence, to court-involved girls between the ages of 15-17.

This special writing program is a new iteration of our award-winning Voices and Faces Project workshop. Using spoken word, poetry, memoir and narrative, our workshop team will support court-involved girls as they "write a new story" about their histories, while reimagining their futures. We're not giving girls a voice. We're supporting them as they use the voices they already have.

Applications are required, and accepted applicants are given full, two-day scholarships. Email cami@voicesandfaces.org for details and share this email by clicking one of the icons below.


SHARE THIS EMAIL

Share this Email
The Stories We Tell:
A two day writing workshop
for court-involved girls
December 12-13, 2015 Chicago, IL
The Voices & Faces Project | Lecture Series
Oh, Canada: Bringing our writing workshop and lecture series to Toronto, Ontario.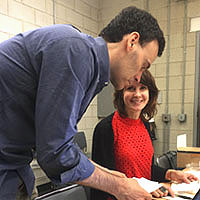 Clifton and Anne

This month, Voices and Faces Project team members R. Clifton Spargo, Janet Goldblatt Holmes and Anne K. Ream spent five days with our neighbors to the north, bringing our "Stories We Tell" writing workshop and lectures series to the YWCA Toronto as part of Project Canada, a unique educational initiative funded by the Donner Canadian Foundation. Special thanks to Stephanie Hanson and our allies at DCF for their belief in our work – and their ongoing support of our expansion into Canada.
The Voices & Faces Project | Lived Through This
Lived Through This: Entering its third printing and an AAUP-recommended read.
Lived Through This: Listening to the Stories of Sexual Violence Survivors, was recently selected for the 2015 University Press Books for Public and Secondary School Libraries bibliography, published in cooperation with The Association of American University Presses (AAUP). The bibliography is an annual collection development tool created to assist school librarians looking for the best titles for their students. We're thrilled that Lived Through This was selected as a book recommended for high school readers. Download the Lived Through This discussion guide.
We can't do it without you:
Support our "Stories We Tell" Scholarship Fund.
Find out more about giving the gift of change by donating to our workshop scholarship fund. Every $500 raised provides a full two-day scholarship for a survivor waiting to take part in our program.