Those are the words of Janet Goldblatt Holmes, a Canadian sexual violence survivor who shared her story with The Voices and Faces Project after decades of silence. In 2010, through generous funding provided by the Donner Canadian Foundation and in partnership with our allies at Making A Difference Canada, we brought our non-profit documentary project to Canada. As part of that effort, The Voices and Faces Project interviewed and photographed nine courageous Canadians -- including Janet -- who have lived through sexual violence and are speaking out in hopes of creating change. Their stories will be included in our forthcoming book.

To hear The CBC (Canadian Public Radio) piece on The Voices and Faces Project and our documentary work in Canada, click here.

Our Canadian Workshop Series: Engaging communities, sharing the stories of survivors.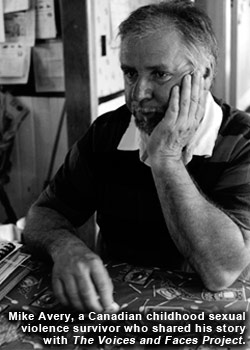 Through a series of presentations and workshops that The Voices and Faces Project recently conducted in Canada, we sought to explore how the media impacts public attitudes about sexual violence, what faith-based groups can do to better support those who have lived through abuse, and the ways that legal and cultural responses to sexual violence and trafficking are connected.

According to the Woman Abuse Working Group, a coalition of 23 Canadian organizations focused on violence against women, "Through the stories that The Voices and Faces Project shared with us, we are able to better understand survivor experiences. Their presentations gave us an opportunity to gather community members together to have conversations about how to support survivors and end violence. Katie Feifer and Anne Ream are passionate speakers and strong advocates for survivors of violence. It is through the work of The Voices and Faces Project that other survivors of rape may have the courage to come forward with their experiences and stories."

Watch for details on our ongoing Canadian outreach in 2011. And special thanks to the Donner Canadian Foundation and our Canadian Project Leadership Team, which includes Ruth Montgomery, Katie Feifer, Stephanie Hanson, and Janet Holmes.