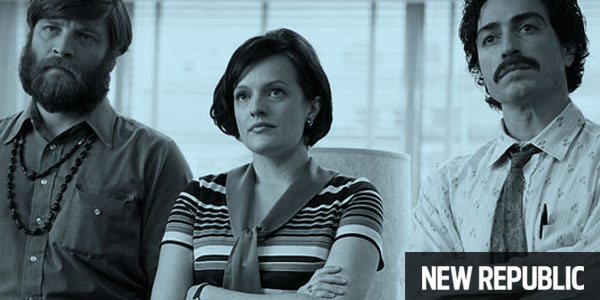 What can AMC's Mad Men tell us about gender justice and the need for workplace equality?
Media representations have the power to change the way we see the world — and ourselves.
Which is why "Mad Men," the AMC show that explores how the image-making class shapes cultural attitudes, is so important. Writing for The New Republic this week, Voices and Faces Project founder Anne K. Ream – herself a former creative director – considers the show and challenges the idea that what's past is really behind us.



The Voices & Faces Project | Article 2

Can the stories of survivors change the world? Talking testimony on Canadian Public Radio.

As part of our "Project Canada" initiative – an expansion of our testimonial writing workshop and lecture series in Canada – our workshop co-creators Anne K. Ream and R. Clifton Spargo recently sat down with Canadian public radio (CBC) to discuss the ways that survivor storytelling is changing the movement to end gender-related violence. Special thanks to the trustees at the Donner Canadian Foundation who have made our workshop and lectures series expansion possible.




The Voices & Faces Project | Article 3

Alice + Olivia (& you!): Be there on May 21st

Please join us at Alice + Olivia on Michigan Avenue on May 21st for an evening of shopping to benefit The Voices and Faces Project. 20% of purchases will go directly to The Voices and Faces Project.
Kindly RSVP to CHICAGOSTORE@ALICEANDOLIVIA.COM

Alice + Olivia
919 Michigan Ave.
Chicago, IL
5:00 pm - 7:00 pm


The Voices & Faces Project | Article 4

Standing up and speaking out: Bring our lecture series to your community.

Our Voices and Faces Project Speakers Bureau is a national network of rape survivors and advocates who are available to speak publicly about the issue of sexual assault. Our Speakers Bureau participants are available to give presentations and talks for a variety of groups and events, including those at campuses, community centers, places of worship, and law enforcement meetings and others. Find out more about our available lectures and hear what people are saying about our Speakers Bureau.

We can't do it without you:
Support our "Stories We Tell" Scholarship Fund.
Find out more about giving the gift of change by donating to our workshop scholarship fund. Every $500 raised provides a full two-day scholarship for a survivor waiting to take part in our program.